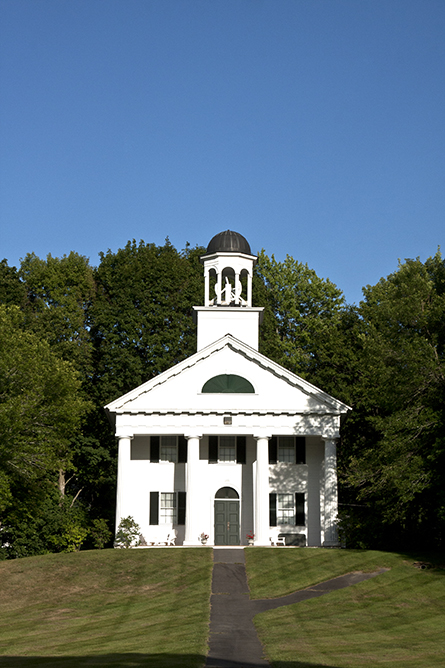 Walpole embodies the Monadnock region of NH
This wonderful historic town epitomizes the Monadnock region
Walpole could be the child star of the Monadnock area, with its tidy cluster of white plank and brick residences and stately public buildings. There's even a bandstand on the well-mowed green and live music on summer evenings. But this town overlooking the Connecticut River north of Keene is much more than a pretty face.
With coffee tables spilling out onto the long porch they share with the post office and a grocery store, LA Burdick Handmade Chocolates and The Restaurant at Burdick's combine to place Walpole firmly on the New Hampshire foodie map. Either is worth traveling; together they are irresistible. The Chocolate Factory serves rich, thick European-style hot chocolate as well as coffees and pastries (with chocolate, of course) and sells a full line of chocolates, which are made right behind the shop. The restaurant offers the great classics of the French bistro (for lunch, try the Lyonnaise salad or their plate of terrines and homemade pâtés).
Across the Main Street, in an imposing Empire-style building, is Mazziott Bake Shop, and beyond is the Village Blooms flower shop and the Walpole Artisans' Co-op, a small shop filled with well-chosen works of art, from beautifully crafted silver jewelry to inlaid wood bowls and brilliantly colored fused glass panels. Across Main Street is Cynthia-Reeves, an art gallery featuring internationally renowned artists.
Crowning the hill opposite, the Greek Revival-style Academy houses the collections of the Walpole Historical Society, including those related to Louisa May Alcott, who spent the summer at Walpole. The building was likely designed by Aaron Prentiss Howland, who was, according to the National Register, "the likely designer and builder of many of the city's architecturally harmonious structures."
Dating even earlier – to 1752 – is the former property of one of Walpole's founders, Colonel Benjamin Bellows. The mansion, often renovated, expanded and modernized over the centuries, is now the Bellows Walpole Inn, a luxury boutique hotel. The Inn Pub offers a small-plate dining menu with unusual specialties (braised rabbit salad, duck with raspberries and scallops with ginger and lime butter) as well as more traditional crab cakes and lamb chops.
Walpole isn't all about fine art, food, and chocolate – agricultural traditions are very much present here as well. One of the most active farming communities in the state, Walpole has dairy farms, orchards, market gardens, working sugar bushes, a cellar and a rural lodge. A walk along Route 12 uncovers a moving feast. September is a good time to taste it to its fullest.
A metal sculpture of an apple tree marks Alyson's Orchard's steep driveway, and as you pass the rows of laden apple trees, the view across the valley from Connecticut to Vermont gets better and better. Here, pick or buy apples and other seasonal fruits and stock up on cider or fruit wines. Below on River Road, Boggy Meadow Farm has a featured dairy where you can taste and buy Swiss butter, delicate maple-smoked Swiss, aged tomme, pepper jack and more. cheeses. In addition to cheese from their own dairy herd, Boggy Meadow sells "Switchel" cider vodka, based on a traditional drink served to farm workers during haymaking. This 21st century version – made with boiled apple cider, ginger, a dash of vinegar and grain alcohol – has it all.
Stay on River Road to find Homestead Farms, a family farm with a large pumpkin patch. In September, they offer both summer veggies – tomatoes, squash, cucumbers, and greens – and fall decorations, including Indian corn, squash, mums, and corn stalks. At the northern end of the village on Route 12 is Pete's Stand Vegetables, known for their field-fresh sweet and tender corn. Just north of Pete's is Walpole Creamery, a frequent winner of the Best of New Hampshire for ice cream made with Walpole Cream and locally harvested fruit and maple. In September, pumpkin ice cream should be on the menu.
On the east side of Route 12, the terrain rises in a series of hills, each level revealing more expansive views. Farms, many of which are active, dot these hills, and one of them is now a rural lodge. Guests of The Inn at Valley Farms, a 105-acre organic hillside farm, can collect eggs from the chicken coop, visit grazing pigs and cashmere goats, and learn about sustainable farming in their center. of interpretation. The rooms furnished with antiques overlook the large perennial gardens.
Further up in the hills is Walpole Mountain View Winery, where the first vines were planted in 2004. In September the vineyard is busy harvesting and crushing the grapes, but there is always someone available to serve. tasting flights and appropriate accompaniments during tasting under glass. room. With views stretching across the valley to the Green Mountains of Vermont, this is New England's most scenic vineyard.
Almost at the line where Walpole meets neighbor Alstead, Distant Hill Gardens is a hidden natural paradise that's a local secret. An environmental and horticultural learning center dedicated to the belief that humans can have a positive effect on nature, the gardens that started as a hobby for Michael and Kathy Nerrie now span 58 acres of tree farm, active maple grove, native plants and ornamental gardens. . A ¾ mile nature trail is open to the public daily and the gardens are open the first Saturday and Sunday of May through October, or by appointment.