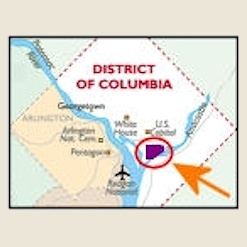 New temporary event site in preparation at Florida Rock / Riverfront
[ad_1]
Today, a liquor license notice appeared in the DC registry for a Class C Tavern application for "Riverfront at the Ball Park" [sic!], at 25 Potomac Ave., SE, which is the address just south of the Nationals Park of the Florida Rock / Riverfront on the Anacostia development that has been going on for a long time.
The app is for a "new tavern" and "food will come from various local restaurants nearby", plus "there will be a stage for live entertainment".
According to ANC commissioner David Garber, plans are for the site to be a pre and post Nats dining venue, and the operator is also forming partnerships to bring kickball and pétanque, weekend food and flea markets and other events on the site.
Developers at the 5.8-acre site, which has long housed a concrete batching plant, have plans but no specific timeline to build the first phase of the project, a 350-unit residential building on the eastern side of the lot near Diamond Park. Teague. During the zoning hearings for the latest designs, there were discussions about install temporary uses just west of the residential building, similar in nature to what is currently in preparation. Additional phases of the project as currently designed would include another residential building, an office building and a hotel, also with no timeline.
And, in a similar vein, Rocklands Barbeque is applying for a license to serve beer at the temporary site they operate on match days just north of 1st Stadium and M SE.
[ad_2]