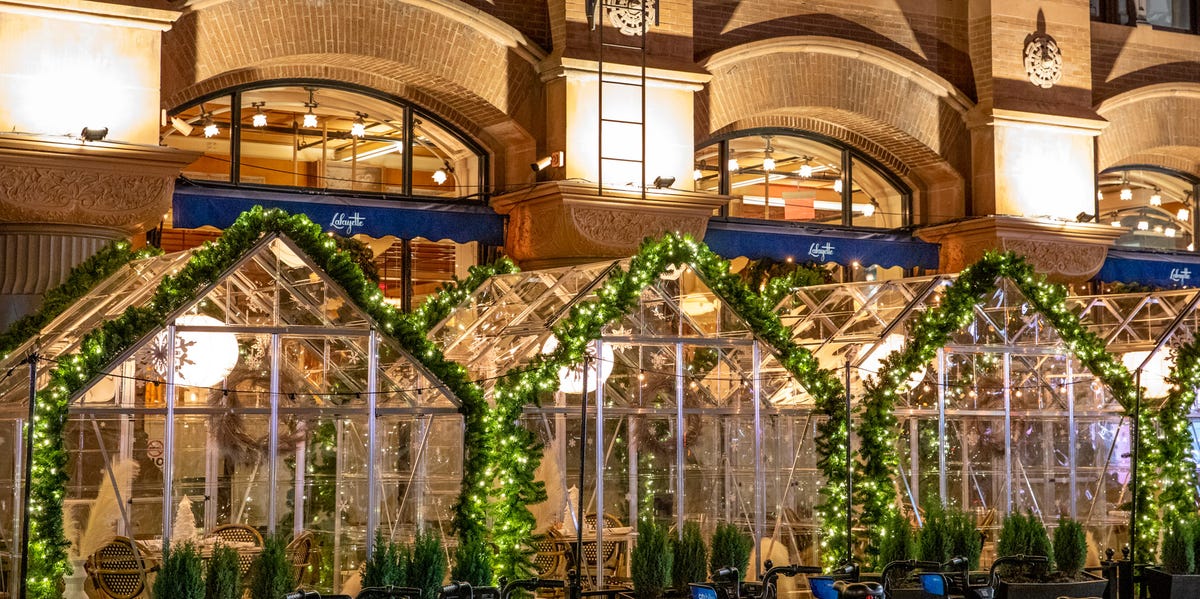 Best alfresco dining in New York City during COVID-19
[ad_1]
Dante, the iconic cafe in Greenwich Village voted best bar in North America two years in a row, serves its customers its award-winning cocktails at The Greens, the waterfront rooftop of Seaport District Pier 17. Upstate New York-inspired glass cabins, accommodating up to 10 people, offer guests touchless ordering, wintry decor, spacious banquettes, virtual fireplace, heaters, and stunning views of New York City exterior floor to ceiling windows.
"To match the theme of the 28 ski-inspired rooftop cabins, we wanted to offer a hot cocktail menu, alongside our bottled cocktails, which we both developed in response to COVID," says Linden Pride, co-owner of Dante. "Our hot cocktail selection is inspired by Alpine-style drinks, including hot cider, hot buttered rum and chartreuse hot chocolate. Our signature cocktails are tailor-made. Riley sheehey hand-illustrated bottles, which allow guests to pour and enjoy as they please, or take with them and enjoy in the comfort of their own home.
To accompany their craft cocktails, diners can enjoy The Greens menu which includes cheese fondue, grilled cheese with truffles, meatballs and polenta, and spicy buttermilk fried chicken.
"Our introduction of The Greens last summer allowed us to create a new respite in the Seaport district for locals looking to socialize and dine responsibly alfresco," said Saul Scherl, President of the New York tri-state region, The Howard Hughes Corporation. "We look forward to continuing to meet this need of New Yorkers and provide a fun and safe way to enjoy the winter season as we transform The Greens at Pier 17 into a relaxing getaway in downtown North the State. "

[ad_2]