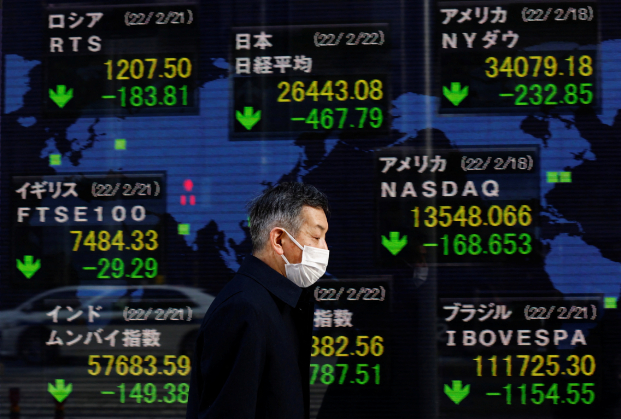 Asian stocks rally as rates ease, China backs lenders
Asian stocks rallied on Monday, encouraged by weaker expectations for US rate hikes despite the bleak economic outlook.
Chinese stocks rose but investors were cautious after the country's growth slowed sharply in the second quarter, missing expectations, and as widespread lockdowns to curb new Covid-19 outbreaks hit spending consumption and industrial activity.
Shares of financial companies and property developers led the gains as regulators stepped up efforts to encourage lenders to lend to qualified property projects following a widening boycott of mortgage payments on unfinished houses.
Read more: China mobilizes banks to fight widening mortgage boycott
Sentiment was also bolstered by the country's central bank governor who pledged to increase the implementation of prudent monetary policy to support the real economy.
MSCI's broadest index of Asia-Pacific stocks outside Japan rose 1.4%, after losing 3.5% last week.
The Shanghai Composite Index rose 1.55%, or 50.04 points, to 3,278.10, while the Shenzhen Composite Index on China's second-largest stock exchange rose 1.48%, or 31, 96 points, at 2,191.96. The blue-chip CSI300 index rose 1% to 4,292.59.
Hong Kong-listed tech giants gained 2.7% in early trading, with food delivery giant Meituan up 6.8% at lunchtime as stocks in the territory scored their biggest gain as a percentage in six weeks.
The Hang Seng Index gained 2.7%, or 548.46 points, to close at 20,846.18, while the China Enterprise Index gained 3% to 7,168.89 points.
India stocks at one-week high
Japanese markets were closed for a public holiday, but shares in South Korea soared 1.8% to lead gains across Asia as currencies and stocks were boosted after investors canceled betting on a bigger interest rate hike by the US central bank this month.
Indian stocks hit week-long highs on Monday as investors took hold of information technology and beaten metals, while a rebound in global equities also contributed to broader investor sentiment.
The NSE Nifty 50 index was up 1.19% at 16,239.40, as of 1010 GMT, while the S&P BSE Sensex was up 0.76% at 54,192.08. Both indexes hit their highest since July 11, after posting their first weekly loss in four on Friday.
The Nifty IT index, down more than 30% this year, gained 3.3%.
ECB ready to raise rates
Globally, equities, US futures, oil prices and bond yields all rose, with European stocks starting the week up more than 1% and the euro moving away from parity at $1.0138 with a big week ahead.
The European Central Bank is expected to raise rates for the first time in more than a decade on Thursday, the same day the bloc hopes Russia will resume gas supplies.
US equity futures rose more than 1% at the start of trading in London.
Corporate earnings will be in focus this week with Goldman Sachs, Bank of America, International Business Corp, Netflix, Tesla and Twitter due to report.
Of the 35 S&P 500 companies that reported, 80% beat Street's expectations, according to Refinitiv. Analysts now expect overall profit growth of 5.6% year-on-year in the second quarter, down from 6.8% at the start of the quarter.
Oil prices rose in the wave of risk. President Joe Biden continued his trip to the Middle East in hopes of securing a deal on increased production, apparently having returned from Saudi Arabia empty-handed.
After an early decline, Brent crude added $2.54, or 2.5%, to $103.70 a barrel, following a 2.1% gain on Friday.
Key figures
Tokyo – Nikkei 225 > UP 0.54% to 26,788.47 (close Friday)
Hong Kong – Hang Seng Index > UP 2.7% to 20,846.18 (closing)
Shanghai – Composite > UP 1.55% to 3,278.10 (close)
New York – Dow Jones > UP 2.15% to 31,288.26 (close Friday)
Reuters with additional editing by Sean O'Meara
Read more:
Shanghai holds mass testing as more cities extend lockdowns
China steps up local government debt issuance for banks